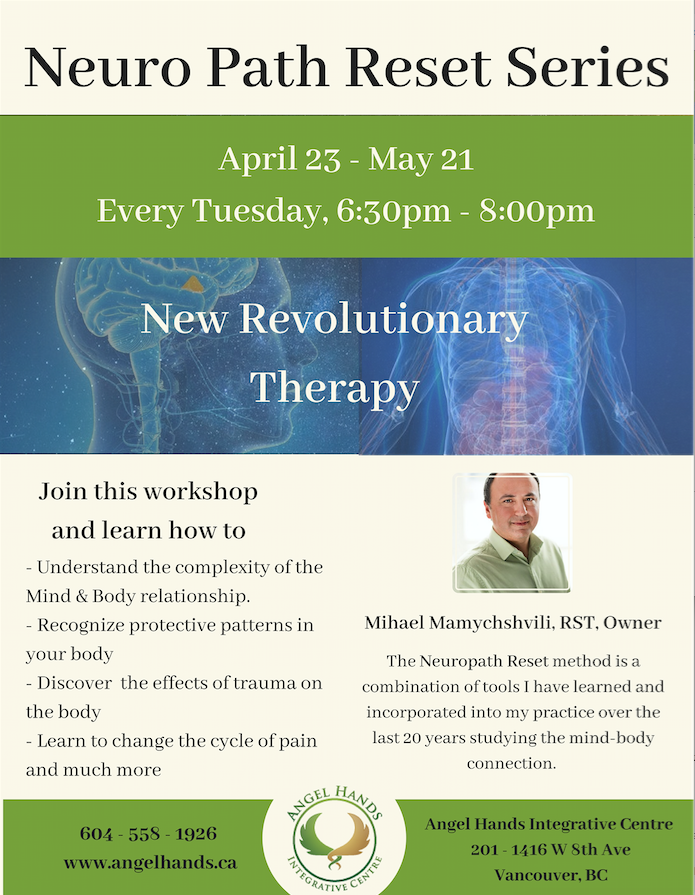 ---
We'd like to thank all the people that have made this series a success in March and can't wait to start our April series.
We are excited to present a Method for Self Healing and Recovery through this 5 week series of experiential classes. We are our own healers and often struggle with that concept has we don't have the proper tools, guidance, knowledge but most importantly we don't build that Resiliency and Inner strength that can only come with cumulative, consistent effort to push forward until we breakthrough.
NeuroPath Reset Method is a combination of tools I have learned and incorporated into my practice over the last 20 years studying the Mindbody connection.
---
It combines established principles of healing and involves:
– Proprioceptive Neuromuscular Facilitation
– Mindfulness and Awareness
– Visceral Self Stimulation of Organs
– Stimulating Electromagnetic Energy through the meridian network
– Breathing techniques with Vocal Sounds
– Visualization
– Integration period
What will you learn:
– Tools you can use daily in sequence, or separately to help you facilitate change
– Achieve resiliency
– Emotional strength
– Reverse patterns in the body, mind and life.
– Align your body
– Release negative patterns
– Create space for new habits and life
Your Instructor Mihael Mamychshvili, Master RSH, Owner of Angel Hands, Lead Therapist of AH Integrative Programs\
Mihael speciality is reconnecting the communication between the mind and body. His innovative approach to the body combined with over 20 years of experience has lead to his reputation as a therapist who can initiate transformative change. After becoming a Shiatsu Therapist in 2001, he has developed his own style of therapy and methodology that focuses on the body-mind connection. He has helped clients change and transform through his treatments which look at the complete person. Developing strong palpation skills through 16 years of bodywork and 20 years of mind-body studies, he has a gift to understand and translate what your body is trying to communicate.
---
Your Investment:
$250 for 5 week Series, (NO DROP IN)
Email mihael@angelhands.ca to register, Or if you have any questions.
---
When: Every Tuesday from April 23 – May 21
Regular Price: $250
Where: Angel Hands Integrative Centre
Time: 6:30PM – 8:00PM
Every Tuesday: 6:30PM - 8:00PM
$250.00 + GST
Angel Hands Integrative Centre