Register here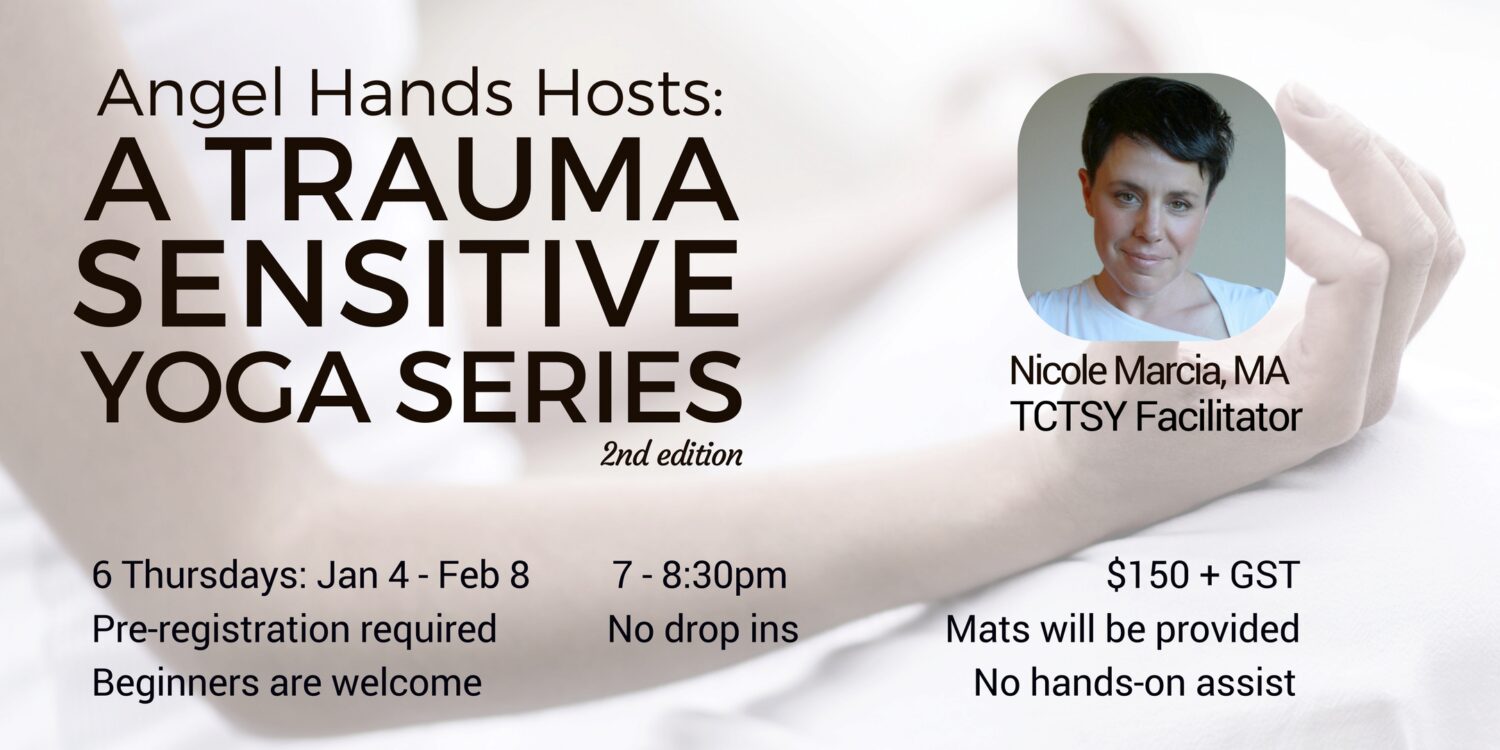 –
Our first Trauma Yoga series has been a success and we're happy to announce a 2nd edition coming soon!
From Jan 4 to Feb 8 – 6 more Thursdays of Yoga at Angel Hands.
Maximum 12 participants! Guarantee your spot soon!
–
Trauma Center Trauma Sensitive Yoga (TCTSY) is an evidence-based treatment protocol for complex trauma and treatment-resistant PTSD developed by leading researchers in the fields of trauma & psychology.
TCTSY is the first somatic modality to be scientifically proven as an effective adjunctive treatment for psychological trauma. It engages the neural networks in the brain that are damaged by trauma.
This series is designed specifically to cultivate safety & heal trauma held in the mind & body.
Open to anyone who self-identifies as having experienced trauma.
You do not need to have an official PTSD diagnosis to participate, nor do you need to have prior yoga experience.
–
​
Nicole Marcia, MA, C-IAYT, TCTSY-F is the founder and director of Fine Balance Yoga. In 2009, she was awarded a master's degree with a specialization in yoga therapy from Lesley University in Boston, MA. From 2008-2017, she served as the Director of Therapeutic Yoga Programming for the Burnaby Centre for Mental Health. Nicole is the Program Director for Incorporating Yoga as a Trauma-informed Practice to Enhance Drug Treatment Outcomes for Justice Involved Youth with Yoga Outreach and a project coordinator at Langara College Continuing Studies in addition to being a yoga therapist at Onsite, the treatment arm of North America's first safe injection site. www.finebalanceyoga.ca /
Questions? nicolem@finebalanceyoga.ca
6 Thursdays - Jan 4 - Feb 8
$150 + GST
Angel Hands Integrative Centre - 201 - 1416 West 8th Ave, Vancouver, BC